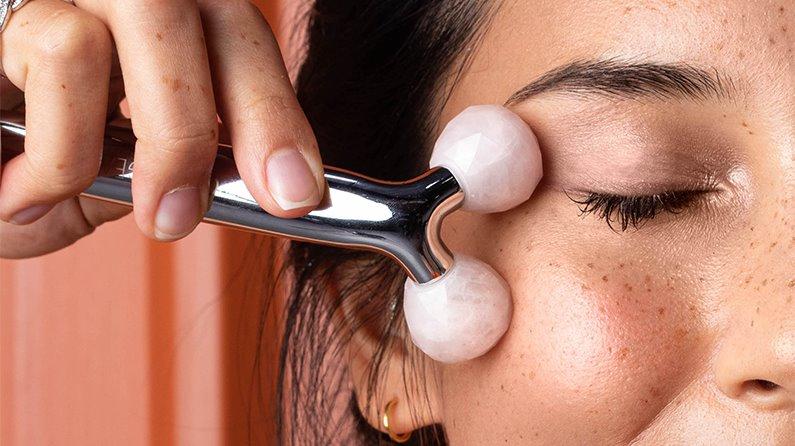 On a Roll: Our Guide to using the GLOWQUARTZ
Is your face ready for the ultimate workout sesh?
What is the GLOWQUARTZ?
Our GLOWQUARTZ is a face roller used to get rid of toxins, reduce puffiness, stimulate facial blood flow and knead away tension. On the mission to get glowy, bouncy skin? Look no further. The GLOWQUARTZ has dual sculpting rollers for efficient and relaxing rolling, made to fit the contours of the jawline and cheekbones. Each individual roller has a multifaceted surface that creates minute pressure points to effortlessly massage the face. The GLOWQUARTZ comes in your choice of stone: rose quartz, jade or obsidian. 
How should it be used?
There are several parts of the face that you don't want to miss when using your face roller. Hitting these spots will aid lymphatic drainage, facial sculpting and muscle relaxation.
Forehead - massaging the forehead will help reduce wrinkles and ease tension. With the GLOWQUARTZ held horizontally, start from the center and roll out towards the side of the face. 
Temples - focusing on this part of the face is great for easing headache or migraine pains. Hold the roller vertically at the temples and roll up and down. 
Under Eyes - the most relaxing morning wakeup call. Soothe puffy eyes by gently rolling around the under eye area, moving in one direction. 
Cheeks - help your skincare products sink into the skin better by rolling your cheeks. Start from the bottom of the cheeks and roll upwards towards the temples, following the hollows of your cheekbones. 
Jawline - that tension in your jawline from unknowingly clenching your jaws? Let it go by rolling upwards, starting from your chin to the angle under your ear. 
Bonus tip - if you're feeling tension anywhere else on your body, for example your neck, arms or legs, the GLOWQUARTZ can help with that. Apply light pressure and roll back and forth on the designated area to ease any knots or tightness. Remember to focus on your breathing when doing so!